If internet is a part of your business by any means, you might surly be using a PDF reader. If I will ask you which PDF writer you use or like to use I know most of you will answer 'Adobe PDF Reader'.
Usually we never think twice when we need a PDF reader and readily install the Adobe PDF Reader. This is because Adobe Reader is the most popular PDF Reader around. But I would like to tell my readers that there are some more PDF Readers available for Windows. The alternatives I am talking about not just help you view PDF files but work excellently in every application of a PDF Reader, right from the minimal applications to the highly advanced applications, like highlighting and annotations.
Tip of the day: Convert PDF to PowerPoint online.
In fact some of these PDF Readers have some extra facilities which are missing in the well-known Adobe PDF Reader which include PDF-editing tools and easy creation of PDF documents.
Built-in PDF Reader
Though it is not fully equipped with features but it is quick and simplest way to read the PDF files. Let me clear it that you can use this built-in PDF reader only if you are using Google Chrome. You do not need to launch and install any external application if you need a Reader only to read the PDF files. This reader makes your PDF file look like a webpage. Mozilla being another very popular browser is also working on getting a built-in PDF Reader and is expected to be released with the next version. The best news is that the next version of Windows 8 is also supposed to come with a built-in PDF Reader.
This is quite a known PDF Reader as compared to others and if we ask anyone for an alternative to Adobe, this would be an answer likely. The only glitch in this PDF Reader is that it automatically installs a toolbar along and also makes some changes in your browser settings. The good things about Foxit include the highlighting option, inbuilt annotation features and some other PDF editing features. If seen according to the features, it is better featured than Adobe PDF Reader.

I would strongly recommend this PDF Reader as an alternative to Adobe Reader because it is one of the most simple and lightweight Reader available. It has a very simple interface which also makes it a portable and easy to carry app. Though it is not outfitted with latest features but its simplicity makes it recommendable. It loads quickly and helps in reading the PDF files easily. Sumatra PDF Reader has the keyboard shortcut settings which make it even quicker in reading the PDF Files. Do you know Sumatra PDF Readers also support some other file formats like Mobi, ePub, CBR and CBZ which make eBooks readable!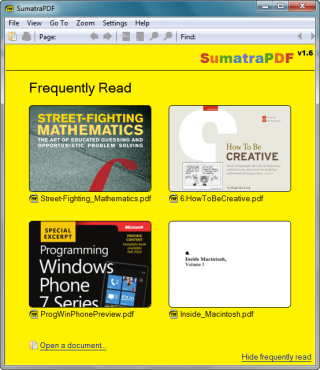 This is a popular alternative to the Adobe PDF Reader with some unique features. Best part about Nitro PDF Reader is that it has a very simple interface in spite of having some additional features. Some of its features are really unique which include the feature of adding the clicked picture of your signature. Nitro PDF Reader also allow the user to convert other formats to PDF format, PDF file to text file and also to extract images from the downloaded PDF files.


PDF-XChange Viewer is another application known as easier and free to read PDF files.
Last but not least Adobe PDF Reader is the most popular PDF Reader being used by all of us. However it is not the fastest and best featured reader but the fact is that PDF files are read just perfect in Adobe. So after describing these PDF Readers, I would certainly like to know which PDF Reader you prefer to use.